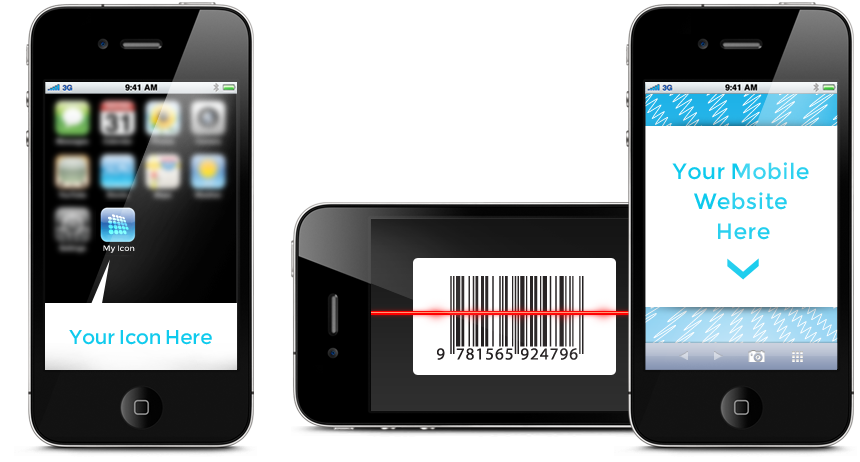 Key features
Displays your mobile web site or web application in the embedded full-screen browser. You update the content as often as you like.
You supply the app name, icon, keywords, App Store description and screenshots.
We publish and update the native app(s).
"Live" barcode scanner, similar to a checkout scanner.
Reads UPC-A/E and EAN-13/8 bar codes (even blurry) on iPhone, iPod Touch, iPad, and all Android devices.
Supports Code39, Code128, Codabar and Interleaved 2 of 5 and (ITF) symbologies (sharp barcodes only).
Embedded web browser with full HTML5 and CSS3 support, with extra hooks to interact with the built-in barcode scanner.
Fast prototyping with pic2shop pro.
Supported platforms
iOS (iPhone, iPod Touch and iPad2)
Android (autofocus and fixed focus)
Barcode symbologies
EAN-13
EAN-8
UPC-A
UPC-E
QR codes
Code 39
Code 128
Interleaved 2 of 5 (ITF)
Codabar (NW-7)
Comparison chart
Built-in barcode scanning
Limited costs
App Store(s) presence
Multi-platform
Fast deployment and updates
| Barcode Shell | Native App | Mobile Web |
| --- | --- | --- |
| | | |
| | | |
| | | |
| | | |
| | | |
Why choose our technology?
Our barcode scanners are widely recognized by users and developers as the fastest and most reliable on the market. They work on all devices, including those without autofocus.
We keep track of the latest platforms developments and we quickly adapt our products when necessary. You benefit from three years of dedicated research and development.
By letting us take care of the native barcode scanner technology, our specialty, you can focus on your core business and provide the most appealing content and the best experience to your customers.
Make your app stand out by using our field proven technology today.
Contact us for more information.