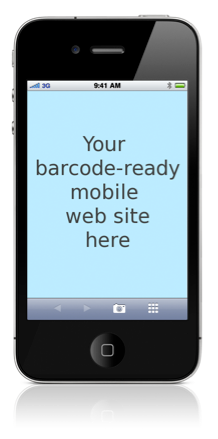 Barcode Shell
is the fastest and easiest route to publish your own barcode-enabled app on the iTunes App Store, the Android Market and the Windows Phone Marketplace.
• Do you already have a mobile site?
• Are you considering building one?
• Do you want to generate additional customer value?
Barcode scanning is not only fun and convenient. Research shows that barcode scanning puts the consumer in charge with instant access to special offers, detailed product information – even mobile coupons!
Barcode scanning is quickly becoming the norm for looking up product information on the go.
Vision Smarts will help you publish native iPhone, Android and Windows Phone barcode scanner apps that embed your mobile web site.
The embedded web browser supports HTML5, CSS, cookies, javascript and https in order for you to quickly build rich barcode scanning apps .
Our app publishing service will provide your customers instant access to barcode scanning functionality with minimal investment.
The app we publish is unique, carries your logo and identity. You update the content as often as you like, since it is a regular mobile web site hosted on your company's servers. Key benefits include:
We publish and update the app
You select the app's name and logo
Leverage existing web development expertise
Reach iPhone, Android and WP7 users
Fast and accurate barcode scanner
Supports iPhone 3G, 3GS, 4 and iPod Touch 4
Flat yearly fee (except for comparison shopping)
Contact us
for pricing information.