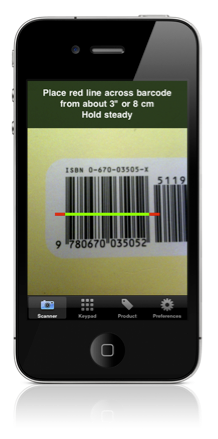 VSBarcodeReader
is the most advanced barcode reading library for the iPhone, Android and Windows Phone 7.
The library and SDK allow you to add barcode scanning functionality to your app in minutes.
Our proprietary technology combines heavily optimized mathematical tools and signal processing algorithms able to read blurry barcodes captured by a fixed focus camera.
Key features include:
✔
"Live" scan, similar to a checkout scanner
✔
Reads UPC-A/E and EAN-13/8 bar codes on iPhone 3G/3GS/4, iPod Touch and iPad2
✔
Supports Code39, Code128 and Interleaved 2 of 5 (ITF) symbologies (sharp barcodes only)
✔
Complete control of the user interface
✔
Does not collect any user or device info
✔
Extremely easy to integrate, there is no parameter to tune
✔
Fully compatible with iOS4 and Apple developer guidelines
With VSBarcodeReader, barcode scanning is fast, accurate, easy and fun!
Make your app stand out by using our field proven technology today.
Contact us
for licensing information.